– Please note that changing the location of the Usynth plugin content is not possible at this point. –
Quick Start – Have a quick look at the following videos:
macOS:
Windows:
The main content of our Plug-ins (samples etc.) is contained in a file of the type "blob" ("binary large object").
You can choose the installation location during the setup, standard locations are:
macOS:
OSX/Library/Application Support/UJAM/<PRODUCTNAME>
Windows:
%SYSTEMDRIVE%/ProgramData/UJAM/<PRODUCTNAME>/
Changing the location during the installation process (works only for the internal disk):
| | |
| --- | --- |
| macOS: | Windows: |
| | |
As content files can be pretty big, some of you want to store them on external drives rather than filling up space on your primary internal disk.
How to move the content files (ending with ".blob") retrospectively
1. Move your blob file to the desired location (different folder or different drive). Don't move the whole folder, just the file. If there are two blob files (usually called part 1 and part 2), move them both.
For example, the .ops file for Virtual Guitarist CARBON is called VG-CARBON.blob (4,36 GB) and the file for Beatmaker DOPE is called BM-DOPE.blob:
macOS: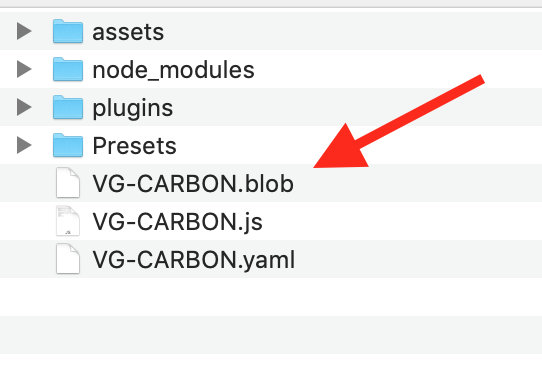 Windows: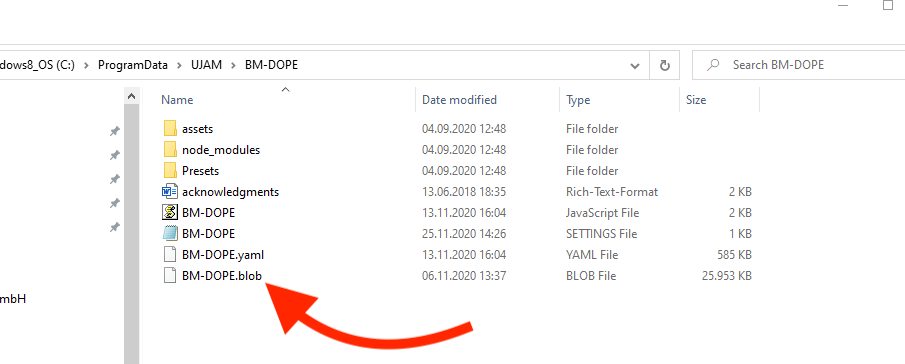 2. Then launch your DAW and open the product. It will present you a dialog asking for the file location:
macOS:

Windows: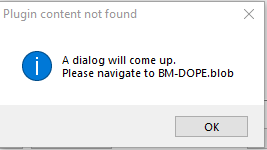 3. Simply point to the new location of the *.blob file – done. ✔️

❗️Please note:
Choosing a wrong blob file will crash the plug-in and DAW! Let's say you update your plug-in to version 2.1 but accidentally choose the 2.0 blob file – you will now have to delete the .settings file of the plug-in or even remove the files and reinstall the plug-in.
Always point to the blob file the dialog asks for, or else you might experience a crash.
If there are two or more blob files: they must always be located in the same folder.
✖︎ If anything goes wrong, you might see these messages:


___
If you do see an error message, have any more questions or need further assistance, please submit a request to our support staff. Thanks!