Having a plug-in error or even a DAW crash can be very annoying. Unfortunately it is quite a regular thing in the audio production world, for many reasons. So nothing to be worried about.
There are many different errors that can occur and probably every music producer has seen one of the following messages at least once.
Examples
Some errors are pretty basic:

Some even include an error code:

Some errors occur if the plugin can't be opened properly: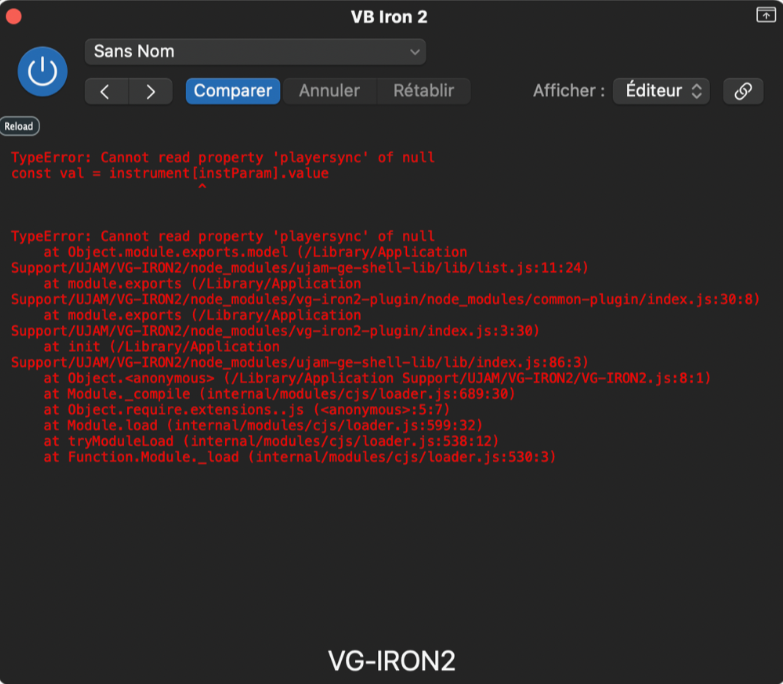 Some errors even result in a complete DAW crash: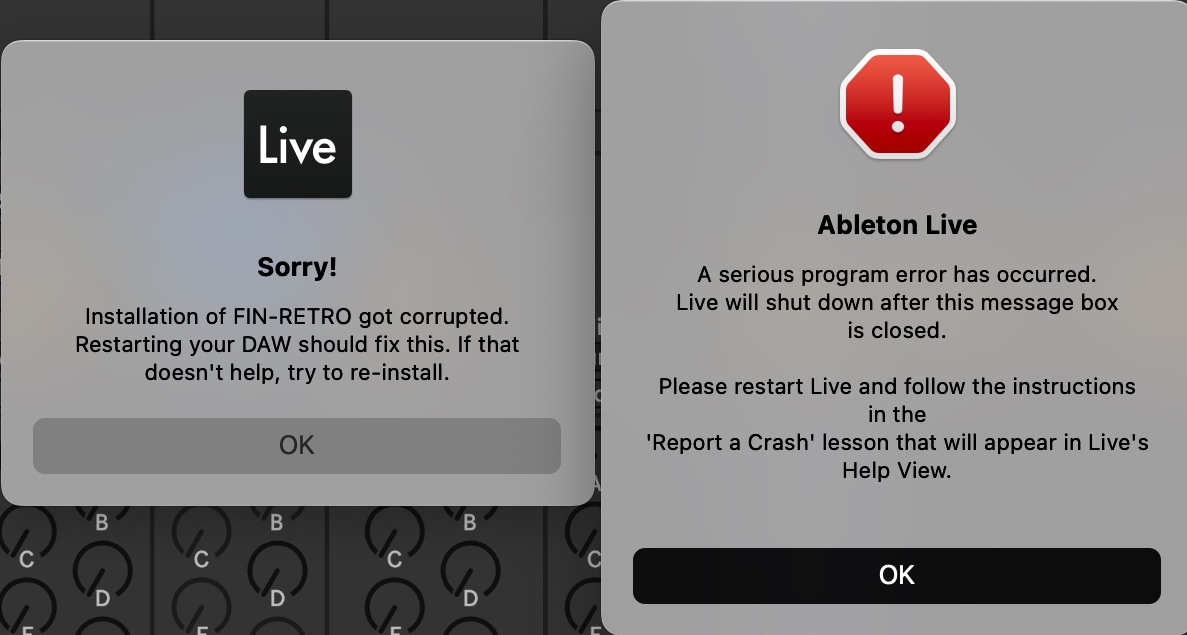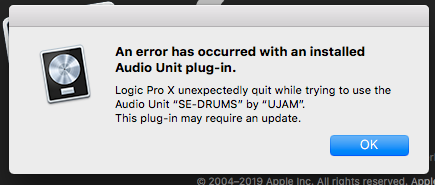 Troubleshooting
Please make sure, you have the latest plug-in version installed. You can always download the latest installers from

your account page

or the UJAM App
Check if the plugin is actually compatible with your operating system

Clean your system:

Manually remove all plugin files, restart your system and reinstall the plug-in. This actually solves the problem in most cases (believe it or not).

For example, there might be some duplicate or incompatible files left on your system from a previous installation, which are causing the error.

Have a look at the following articles:
Also here are a few tips:
Close your DAW before uninstalling and reinstalling a plugin

Turn off any kind of firewall of antivirus software that might interfere with the installation process or the plug-in itself

Make sure you have admin rights on your computer and grant the requested permissions while installing the software

Use the default file locations during the installation process, e.g. instead of a custom location on an external drive (the more you customize your installation, the more likely it is that something goes wrong)

Restart your system

You may want to check out our

DAW knowledge base

and rescan your plug-ins

On macOS: check if your DAW is running in "Rosetta" mode or not and see if it is causing the error

If this doesn't help, submit a request to our support staff with as many details as possible:
Which plug-in causes the crash (e.g. Virtual Bassist ROYAL)?

What did you do directly before the crash (e.g. opened the plugin GUI, played C4 with Latch active while using MIDI drag and drop)?

Can you do the same thing again and it crashes again or does it seem to happen a bit random?

Which operating system and version are you using (e.g. Windows 10, macOS High Sierra,…)?

Which DAW and version are you using (e.g. Logic Pro X 10.4.4, FL Studio 20,…)?

If you have crash logs: Please send them to us, they are usually really helpful.

On macOS: when the crash message box comes up please click on "Report…" and copy&paste the full report into a message to us.

On Windows it's a bit more complicated to get good crash reports and usually requires additional tools. Hopefully we'll be able to fix your error without this.