Please have a look at the following list of system requirements in order to make sure that your plugin is compatible with your operating system.
If your OS is not compatible, you will need to update your computer or else you might get an error like for example: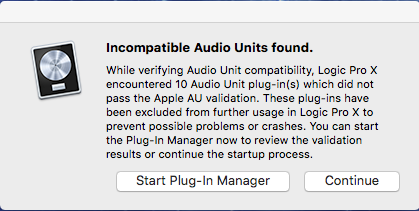 Note that not all plugins are running natively on Apple Silicon so you might need to try running your DAW in "Rosetta" mode (or also the other way round).

Have a look at this article: Apple Silicon M1, VST 3 support, ...

macOS 10.10.5 Yosemite is not supported.

macOS 10.13 High Sierra & 10.11 El Capitan are also no longer supported, as we cannot guarantee full compatibility.

We recommend updating your operating system to macOS 10.14 or later

In case you need to download legacy plugin versions, please have a look at this article:

Alternative Download Sources & Previous Versions

32 bit systems are not supported (64 bit is required).

The requirements always refer to the latest plugin version available.

In general, you may have success on former operating system versions but we don't officially support them.

Always use the free 30 day trial to test if a plugin is compatible before you buy it.
USYNTH
Series Title

Operating System

RAM & Disc Space

Plug-in Format

Download Link

USYNTH-PIXEL

Windows 10 or later

macOS 10.15 to 13

Runs natively on M1

8 GB of RAM

300 MB of free Disk Space

USYNTH-GLAM

Windows 10 or later

macOS 10.14 to 13

Runs natively on M1

8 GB of RAM

1 GB of free Disk Space

USYNTH-DRIVE

Windows 10 or later

macOS 10.14 to 13

Runs natively on M1

8 GB of RAM

1 GB of free Disk Space

USYNTH-2080

Windows 10 or later

macOS 10.14 to 13

Runs natively on M1

8 GB of RAM

450 MB of free Disk Space

USYNTH-EUPHORIA

Windows 10 or later

macOS 10.14 to 13

Runs natively on M1

8 GB of RAM

260MB of free Disk Space

USYNTH-CARAMEL

Windows 10 or later

macOS 10.14 to 13

Runs natively on M1

8 GB of RAM

1.44 GB of free Disk Space

USYNTH-CORE

Windows 10 or later

macOS 10.14 to 13

Runs natively on M1

8 GB of RAM

450 MB of free Disk Space

USYNTH-DELUXE

Windows 10 or later

macOS 10.14 to 13

Runs natively on M1

8 GB of RAM

2.2 GB of free Disk Space
UFX REVERB
Operating System

Windows 10 or later

macOS 10.14 to 13

Runs natively on M1

Minimum Requirements

4 GB of RAM
280 MB of free Disk Space

Plug-in Format

Download Link
BEATMAKER (BM)

Operating System

Minimum Requirements

Plug-ins Format

Download Link

BM-COZY

Windows 10 or later

macOS 10.14 to 13

Runs natively on M1

4 GB of RAM

720 MB of free disk space

BM-CIRCUITS

Windows 10 or later

macOS 10.14 to 13

Runs natively on M1

4 GB of RAM

720 MB of free disk space

BM-HUSTLE2

Windows 10 or later

macOS 10.14 to 13

Runs natively on M1

4 GB of RAM

0.06 GB of Disk Space

BM-DOPE2

Windows 10 or later

macOS 10.14 to 13

Runs natively on M1

4 GB of RAM

0.07 GB of Disk Space

BM-EDEN2

Windows 10 or later

macOS 10.14 to 13

Runs natively on M1

4 GB of RAM

0.06 GB of Disk Space

BM-VOID

Windows 10 or later

macOS 10.14 to 13

Runs natively on M1

4 GB of RAM

0.09 GB of Disk Space

BM-VICE

Windows 10 or later

macOS X 10.14 to 13

Runs natively on M1

4 GB of RAM

0.06 GB of Disk Space

BM-HYPE

Windows 10 or later

macOS 10.14 to 13

Runs natively on M1

4 GB of RAM

0.16 GB of Disk Space

BM-KANDY

Windows 10 or later

macOS 10.14 to 13

Runs natively on M1

4 GB of RAM

0.17 GB of Disk Space

BM-NEMESIS

Windows 10 or later

macOS 10.14 to 13

Runs natively on M1

4 GB of RAM

0.17 GB of Disk Space

BM-GLORY

Windows 10 or later

macOS 10.14 to 13

Runs natively on M1

4 GB of RAM

0.105 GB of Disk Space

BM-IDOL

Windows 10 or later

macOS 10.14 to 13

Runs natively on M1

4 GB of RAM

0.170 GB of Disk Space

BM-RICO

Windows 10 or later

macOS 10.14 to 13

Runs natively on M1

4 GB of RAM

188 MB of free Disk Space

BM-BERSERK

Windows 10 or later

macOS 10.14 to 13

Runs natively on M1

4 GB of RAM

295 MB of free disk space

VIRTUAL GUITARIST (VG)

Operating System

Minimum Requirements

Plug-ins Format

Download Link

VG-SPARKLE2

Windows 10 or later

macOS 10.14 to 13

4 GB of RAM

8 GB of Disk Space

VG-IRON2

Windows 8 or later.

macOS 10.14 to 13

8 GB of RAM

6.6 GB of Disk Space

VG-AMBER2

Windows 8 or later.

macOS 10.14 to 13

8 GB of RAM

8 GB of Disk Space

VG-SILK

Windows 8 or later.

macOS 10.12 to 13

4 GB of RAM

6 GB of Disk Space

VG-CARBON

Windows 8 or later

macOS 10.14 to 13

4 GB of RAM

4.5 GB of Disk Space

VIRTUAL PIANIST (VP)

Operating System

Minimum Requirements

Plug-ins Format

Download Link

VP-VIBE

Windows 10 or later

macOS 10.14 to 13

8 GB of RAM

2 GB of Disk Space

VP-VOGUE

Windows 10 or later

macOS 10.14 to 13

8 GB of RAM

3.3 GB of Disk Space

VIRTUAL BASSIST (VB)

Operating System

Minimum Requirements

Plug-ins Format

Download Link

VB-ROYAL2

Windows 8 or later

macOS 10.12 to 13

4 GB of RAM

7 GB of Disk Space

VB-MELLOW2

Windows 8 or later

macOS 10.12 to 13

4 GB of RAM

6 GB of Disk Space

VB-ROWDY2

Windows 8 or later

macOS 10.12 to 13

4 GB of RAM

0.5 GB of Disk Space

VB-SLAP

Windows 10 or later

macOS 10.14 to 13

8 GB of RAM

7.23 GB of Disk Space

VB-DANDY

Windows 8 or later

macOS 10.12 to 13

4 GB of RAM

7 GB of Disk Space

FINISHER

Operating System

Minimum Requirements

Plug-ins Format

Download Link

FIN-NEO

Windows 8 or later

macOS 10.12 to 13

4 GB of RAM

0.09 GB of Disk Space

FIN-VOODOO

Windows 8 or later

macOS 10.12 to 13

4 GB of RAM

0.07 GB of Disk Space

FIN-FLUXX

Windows 8 or later

macOS 10.12 to 13

4 GB of RAM

0.08 GB of Disk Space

FIN-RETRO

Windows 8 or later

macOS 10.12 to 13

4 GB of RAM

0.354 GB of Disk Space

FIN-DYNAMO

Windows 8 or later

macOS 10.12 to 13

8 GB of RAM

0.9 GB of Disk Space

FIN-MICRO

Windows 8 or later

macOS 10.12 to 13

4 GB of RAM

0.02 GB of Disk Space

VIRTUAL DRUMMER

Operating System

Minimum Requirements

Plug-ins Format

Download

Link

VD-HEAVY2

Windows 8 or later

macOS 10.12 to 13

64 bit only

4 GB of RAM

0.5 GB of Disk Space

VD-PHAT2

Windows 8 or later

macOS 10.12 to 13

4 GB of RAM

0.5 GB of Disk Space

VD-SOLID2

Windows 8 or later

macOS 10.12 to 13

4 GB of RAM

0.5 GB of Disk Space

VD-BRUTE

Windows 7 or later

macOS 10.13 or to 13

4 GB of RAM

3.1 GB of Disk Space

VD-DEEP

Windows 8 or later.

macOS 10.12 to 13

4 GB of RAM

3.7 GB of Disk Space

VD-HOT

Windows 10 or later

macOS 10.14 to 13

Runs natively on Apple Silicon

8 GB of RAM

6.11GB of free disk space

SYMPHONIC ELEMENTS (SE)

Operating System

Minimum Requirements

Plug-ins Format

Download

Link

SE-STRIIIINGS

Windows 8 or later

macOS 10.12 to 13

4 GB of RAM

4.7 GB of Disk Space

SE-DRUMS

Windows 8 or later.

macOS 10.12 to 13

4 GB of RAM

4.7 GB of Disk Space

SE-BRAAASS


Windows 10 or later


macOS 10.14 to macOS 13

8 GB of RAM

6 GM of free Disk Space

GROOVEMATE (GM)

Operating System

Minimum Requirements

Plug-ins Format

Download

Link

GM-ONE

Windows 7 or later

macOS 10.12 to 13

4 GB of RAM

0.09 GB of Disk Space