To help you get started with the Usynth, here are the answers to some frequently asked questions:
Usynth? What's that?
The Usynth series introduces synthesizers the UJAM way. We focused on creating easy-to-use synthesizers, made for everyone who doesn't want to tweak a thousand knobs in order to shape the sound of a single waveform. No need to study music technology. Just pure fun!
Have a look at this video:

How can I get my hands on these awesome plugins?
Get the free 30 day trial today! Click here to visit our trial page.
Please note that you need an internet connection and also the UJAM App in order to install and use Usynth. The UJAM App works as a small helper tool for the Usynth plugins. For example, it helps to load presets and manages the trial time and authorization.
Here are the direct download links:

Usynth DELUXE

I have trouble downloading and installing Usynth – What can I do?
Please make sure that...

...you're using the most recent version of the App

...you have enough disc space available

...you are the admin of your computer and grant all the requested permissions

...no antivirus software or firewall is blocking the connection of the UJAM App (you might wanna try turning it off temporarily)

Read more: 🎲 Usynth & UJAM App | Troubleshooting


Why doesn't Usynth show up in AVID Pro Tools?
Pro Tools AAX support has been disabled because of some critical last minute bugs

We plan to ship an update in order to support AAX as soon as possible


Can I use MIDI Drag and Drop?
Sorry folks - we know you're used to Drag'n'Drop being a part of UJAM instruments. It didn't make it into the first release versions of Usynth.
Can I relocate the plugin content?
Relocating the plugin content is not possible at this point

Please do not move the plugin content to an external drive

Relocating the blob files will result in a crash or malfunction

Usynth does not require much disc space so please use the default file locations

We will ship this feature in the near future
What comes with the Usynth bundle?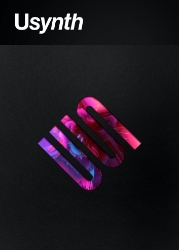 DELUXE | Vibrant Soul Keys

CORE | All-purpose studio essentials

2080 | 80s synthwave atmospheres

CARAMEL | For lush pads

EUPHORIA | Big room EDM
Will Usynth work on my computer?
We qualified the plug-in for the following operating systems:
MacOS 10.14 or later
Windows 10 or later
Minimum requirements: 8GB RAM and at least 2 GB of free disc space


Only VST2 and AU supported. No AAX (yet).

Always use the free 30 day trial before you purchase.
Is the Usynth Bundle already part of the Full Bundle?
Of course!
I already own various UJAM plugins. Can I get a discount?
Does Usynth support NKS?
No, Usynth does not support NKS – we might add this feature at some point in the future.
Can I use the plugins offline?
Please note that you need an internet connection and also the UJAM App in order to install and use Usynth.

We do not support offline authorization at this point but once authorized, the plugin can be used offline.
What about Usynth and Apple M1?
Usynth does not run natively on M1 chips. Please consider starting your DAW in Rosetta mode.
Any PreSonus Studio One features?
No, Usynth it not yet capable of working with the 'Follow Chord' feature like other UJAM plugins.
Reason Studios
Usynth parameters are not accessible via automation in the DAW Reason.
Are there more known issues?
We are aware of some issues that will eventually be fixed in future updates. This additional information will help you to quickly find a workaround, so you get the results you are looking for.
Here's an overview so you know what it's about:
You need to be loggin in to the UJAM App in order to start the trial time.

It's possible to save presets with factory names which will reset the saved preset to default. Same goes for saving presets without entering a name at all.

There may be rare issues while saving presets.




(Logic 10.7.2 on Mac OS 12 M1-based Systems only)

Sometimes automating parameters will not apply the current value when starting to record automation

(Cubase only).

Set sequencer rate does not reflect the content of the actual sequences in all cases.

Preset saving dialogue is not centered correctly when the user interface is being resized.
Learn more about Usynth in this article.
If you have any more questions or need further assistance, please

submit a request

to our support staff. Thanks!