Internet Connection Required
You need to be online in order to:
Download the UJAM software

Sign in to the UJAM App

Activate your plugin
Once authorized, you can use your plugins offline, while the UJAM App will look like this: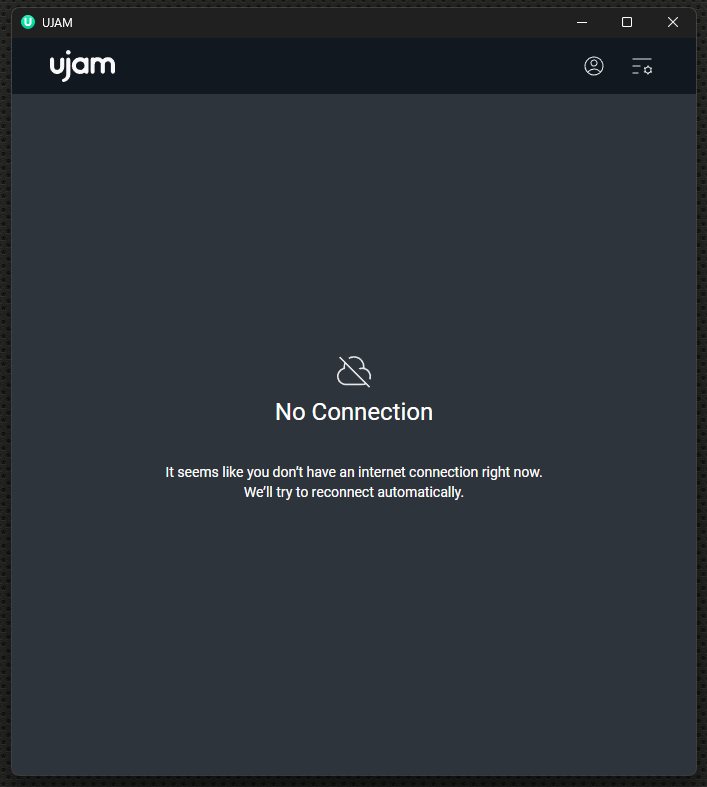 Your Studio Computer is Offline?
Yikes!
Since our copy protection system is based on system fingerprints, a direct offline authorization is unfortunately a bit complicated. Please note that going online for just a short moment, that's all it takes to activate your plugin. Once activated, the plugin can afterwards be used without a permanent internet connection.
At the moment we can only offer a rather complex workaround in order to activate your other UJAM Instruments plug-ins on a computer completely offline. We are already working on a better solution!
Please follow these instructions:
Download the installer file of the respective UJAM plug-ins you bought and wish to authorize offline (load the installers here: UJAM App | Download & Installation issues)

Transfer the installer files to the offline computer you want to use

Install the software

Open your DAW and load an instance of your plugin (e.g. Groovemate ONE)

A so called ".ops file" gets generated. Go to the following location and find the .ops file:



MS WINDOWS:

A. Go to:

%SYSTEMDRIVE%\Users\%USERNAME%\AppData\Roaming\UJAM

\

B. Copy the file, transfer it to a computer with internet connection and send us your ops file (e.g. GM-ONE.ops)

You will need to Show Hidden Folders in File Explorer options in order to access the hidden library as shown in this quick video tutorial↓ or below it's demonstrate with images

How to show hidden files:

Show Hidden Files under (Control Panel)

Activate in (File Explorer Options) the show hidden files option

Apple macOS:

In the Finder, choose Go

➜

Go to folder from the menu.  (or use Shift+Command+G)

Type: ~/Library/Application Support/UJAM

Open the folder called GM-ONE

Copy & send us your .ops file or watch this quick video tutorial to find the .ops files on MAC ↓

Provide us with your e-mail address

Send the .ops file as an attachment

Wait for us to send back the authorized .ops files

Close your DAW and place the new .ops file to the right folder
►Windows:


%SYSTEMDRIVE%\Users\%USERNAME%\AppData\Roaming\UJAM

\

►Mac:

Macintosh HD:/USERS/USERNAME/Library/Application Support/UJAM/

Open your DAW and load the plug-in, it should now be authorized. Enjoy!