Expected Behaviour
You start your free 30 day trial time via the UJAM App or within the plug-in

You have lots of fun making music and evaluating the product

30 days later the demo period is over

You now have zero days left

You need to buy a permanent plug-in license
Demo Extension
If you want to extend your trial time, please ↪send us one of your .ops files, so that we can reset your trial time manually.
Known Issues
The trial time can also expire if:
Your computer is not connected to the internet

Your firewall or antivirus software is interfering (e.g. blocking the connection of the plug-in to our servers)

You updated your operating system

Your system time is changed

You made major hardware changes to your computer (e.g. new motherboard)

Other technical issues
Troubleshooting

Close your DAW.

Make sure to always keep your UJAM App up-to-date. The app should notify you automatically when an update is available. The UJAM App manages the trial time of your UJAM plugins.

Read more about recent changes: Changelog | UJAM App

If your app version is outdated and you can't update, please reinstall.

Fully quit the UJAM App in the taskbar (also called 'system tray'):

Delete the .ops file of the respective plugin which keeps showing up as a trial version:


Operating System
Location of .ops file

Windows

%SYSTEMDRIVE%\Users\%USERNAME%\AppData\Roaming\UJAM

\

Mac

~/Library/Application Support/UJAM


(Macintosh HD:/USERS/USERNAME/Library/Application Support/UJAM/)

Open the UJAM App and make sure you're signed in with your UJAM account.

Open your DAW and start the plug-in you want to try.

Your plug-in and the UJAM App should now display the correct trial time.
More Troubleshooting Ideas
Scroll down to the bottom of the app and click the refresh button. It looks like this:


Reinstantiate your plug-in.

Restart your computer.

Uninstall and reinstall the plug-in.

Reinstall the UJAM App.
Detailed instructions on how to find the .ops file
When you launch your UJAM plug-in for the first time in your DAW, an .ops file with a hardware fingerprint of your computer should get created, as part of our copy protection system. An internet connection is required.
Microsoft Windows
Go to %SYSTEMDRIVE%\Users\%USERNAME%\AppData\Roaming\UJAM

\

Please submit a request to our support staff and attach your .ops file

You will need to Show Hidden Folders in File Explorer options in order to access the hidden library. Here's how to:

Step 1)

Show Hidden Files under (Control Panel)

Step 2)

Activate in (File Explorer Options) the show hidden files option
Apple macOS
In the Finder, choose Go

➜

Go to folder from the menu.  (or use Shift+Command+G)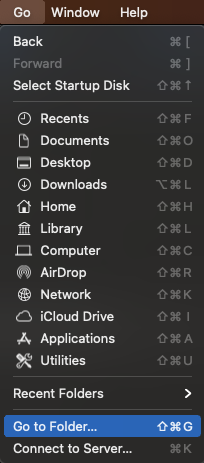 Type: ~/Library/Application Support/UJAM

Please submit a request to our support staff and attach your .ops file

Watch this quick video tutorial to find the .ops files on MAC ↓