This is the first title of UJAMs new series, a collection of virtual instruments enabling you to add beautifully complex and rich tracks to your music.
To help you get started with STRIIIINGS (simply pronounced Strings), here are the answers to some frequently asked questions:



Where do I find more SE-STRIIIINGS content?
We will upload more and more high quality content within the upcoming days/ weeks, so please stay tuned and make sure to subscribe to our YouTube channel!
How does the pre-order work?
During the pre-order period (starting November 19th) you can buy the plug-in for just $/€ 99.00 instead of the regular price of $/€ 169.00 – simply add the product to your cart and go through the whole checkout process.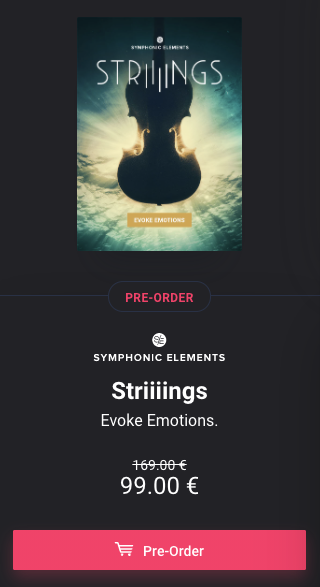 Afterwards you'll find the license linked to your ujam account (please note that you can't download the plug-in during the pre-order period).

Delivery: The download will become available on December 7th and we will inform you by email.
How can I try SE STRIIIINGS and where do I find the user guide?
There's no trial or user guide available during the pre-order period.
I bought STRIIIINGS at a reseller. How can I redeem my code?
The following article will help you: Partner Shop Purchase


Please make sure you copy & paste the complete code!

It should look like this:




Single product: XXXX-XXXXXXXXXX-XXXXXX
I received a serial number/ coupon code but I can not redeem it. Is the license usage limit reached or the coupon expired?
Please double check the code you entered.

Log in to your ujam account and check whether STRIIIINGS is already linked to your account. If so, you're good to go and you will be able to activate the plug-in with your ujam credentials.

I already own several ujam plug-ins – do you have a special offer for me?
Of course!
Period:

Price ($/€)

Pre-Order
(starting November 19th)

99.00 (best)

Introduction
(starting December 7th)

119.00

Regular price


169.00
With this release, the Full Bundle price slightly increased. This bundle is the collectors' edition including every ujam plug-in and sells at a discount of 57%.
If you already own various ujam plug-ins and wish to upgrade to the Full Bundle, please submit a request to our support to get an individual discount.

Also, you can always head over to our store and check your Bundle options!

There are no other special offers like loyalty discounts at this point.
Will

SE

STRIIIINGS

work on my computer?
We qualified the plug-in for the following operating systems:

MacOS 10.11 or later

Windows 7 or later

You may run it on earlier versions but we don't support them. Please download your free 30-day demo and give it a try!

Please note that

SE

STRIIIINGS is only compatible with

64bit software

.

32bit is not supported!




Digital Audio Workstations
SE STRIIIINGS should run on every DAW supporting VST 2, AU 2, and AAX. We cannot guarantee that STRIIIINGS is compatible with the following software:
Adobe Audition

Audacity

Pro Tools First

Mixcraft 8

Earlier Cubase versions (make sure to test the free trial)
Is there a Reason Rack Extension?
We didn't create a STRIIIINGS Rack Extension. Please make sure to use the VST format if you're a user of Reason Studios.
Does STRIIIINGS come with pop music string patterns or just symphonic/orchestral patterns?
The patterns of Symphonic Elements STRIIIINGS are fitting perfectly to film scoring, cinematic and game soundtracks, but also pop and rock music.
You will always be able to play around with STRIIIINGS and find a way to make it fit.
Your imagination is your only limitation here!
Does it have an Instrument Mode and a Player Mode?
STRIIIINGS is not a multi-sample instrument like for example Virtual Bassist. Playing single notes like in the "Instrument Mode" won't be possible, as STRIIIINGS is based on playing phrases.
Where do the samples come from?
Regarding the source of the STRIIIINGS samples, we had exclusive access to Hans Zimmer's Remote Control Studios and his multi-million-dollar library of string recordings, honed and expanded for over a decade. In the sections, we can count Violin, viola, cello, and double bass.
Click here to find out more: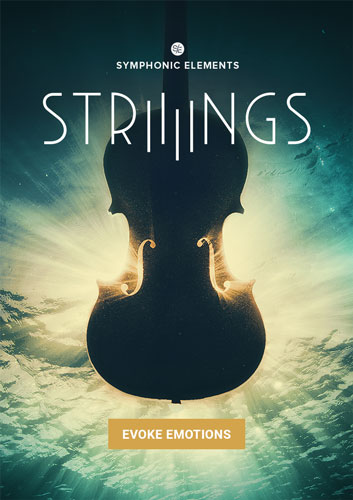 If you have further questions, please feel free to submit a request to our support staff. Thanks!