1. What is MIDI Drag & Drop?
MIDI Drag & Drop lets you drag Song Parts from the Interactive Keyboard into any track of your DAW, where it will be converted to a MIDI region with editable notes.
Please note that this feature is not available for all ujam plug-ins.


2. How to use MIDI Drag & Drop?
To drag a phrase from the plug-in to your DAW, click and hold in the dotted drag area of any phrase key on the Interactive Keyboard and drag the mouse pointer over to the target track.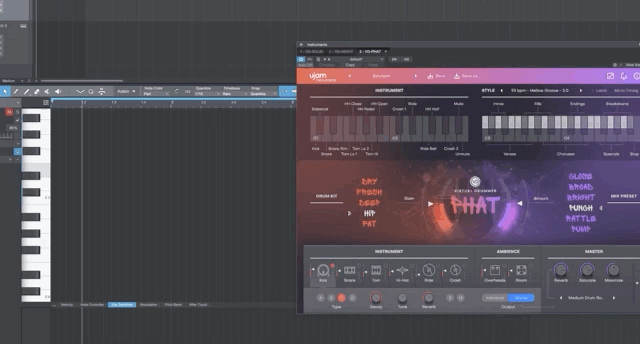 MIDI regions/notes created by dragging phrases into Logic Pro
-Learn how to Drag & Drop phrases from Virtual Drummer 2 in Logic Pro:
- Learn how to Drag & Drop phrases from Virtual Drummer 2 in Ableton Live:
Things you can do using Drag and Drop
You can edit a song part just like any other MIDI sequence - e.g. change note positions, velocities, or add instruments,
You can combine Song Parts from various Styles into one song. Just switch Styles and drag away.

Our plug-ins are mostly cross-compatible, so you can try to just switch between Beatmakers or Virtual Drummers entirely if you find in the middle of creating your track.

Best of all: You can even combine all of the above techniques freely to create your total custom beats and grooves.
Note: When you drag Intros, Fills and Endings, note that some of these start mid-bar, so you might sometimes have to adjust the start of the resulting MIDI region after dropping it.