Introduction
At UJAM, our goal is to provide users with a seamless music creation experience. However, like all software, occasional hitches might arise. To better assist you, we've implemented Verbose Logging in the UJAM App. This article will guide you through what it is, why it's important, and how to use it.
What is Verbose Logging?
Verbose logging is a detailed recording of the app's activities. When enabled, the UJAM App will create an in-depth log of its operations, including downloads, installations, and any issues encountered. Importantly, these logs are stored locally on your device. They are not automatically transmitted to UJAM or any third parties. Sharing is completely at the user's discretion, ensuring your privacy is protected.
Why is it Important?
Troubleshooting: The detailed logs help in identifying specific problems, making the troubleshooting process more efficient.
Communication with Support: If you ever need to contact UJAM's support team, providing them with these logs can expedite the resolution process.
Continuous Improvement: By understanding common issues, the UJAM team can enhance the app's functionality and user experience.
How to Enable Verbose Logging
Open the UJAM App.

Navigate to the settings or preferences menu.

Look for an option labeled Verbose Logging and activate it.

Once activated, the app will start generating detailed logs of its operations.

When contacting UJAM support, manually attach the saved log files. Remember, only you decide when and with whom to share these logs.
What to Do if You Encounter an Issue
Ensure Verbose Logging is activated.

Reproduce the issue you're facing (e.g., if it's a download problem, try downloading again).

Once the issue is reproduced, navigate to the log file location.

When

contacting UJAM suppor

t, attach the saved log files to provide them with a detailed capture of the problem.
Where to Find the Log File
If you wish to share these logs with UJAM support for troubleshooting, navigate to the following locations and search for the 'combined.log' file.

Mac:
Macintosh HD > Users > USERNAME > Library >Application Support > ujamapp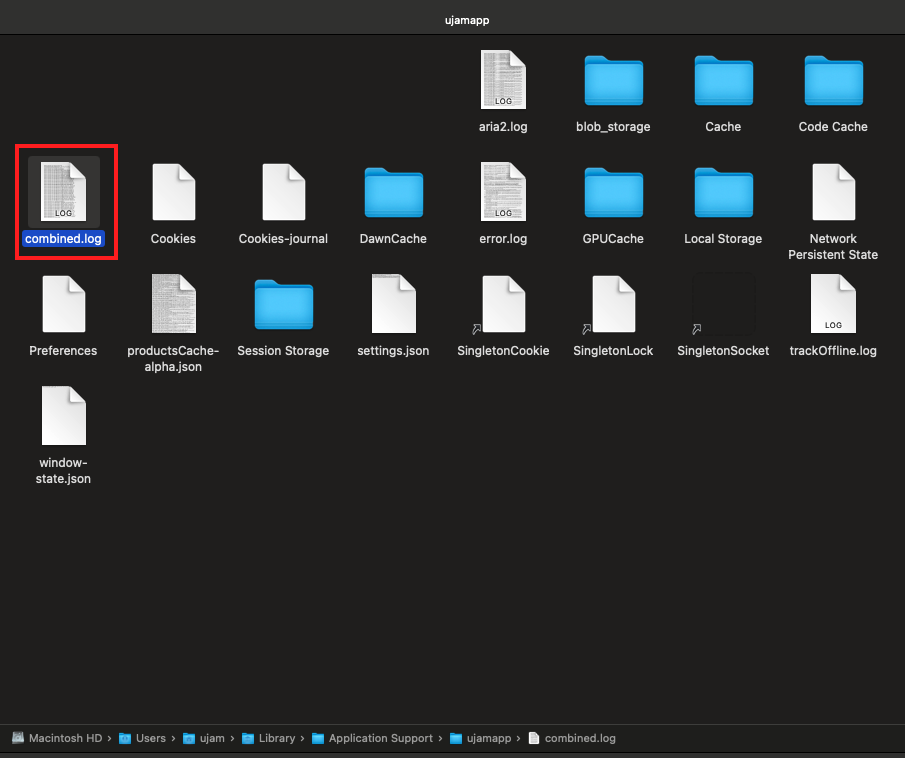 ​
Windows:

%SYSTEMDRIVE%\Users\%USERNAME%\AppData\Roaming\ujamapp\
Or copy & paste just this path: %AppData%\ujamapp
Points to Remember
Verbose logging can use a bit of additional disk space due to the detailed information it records. It's recommended to disable it once your issue is resolved or the logs are exported.

Always review your files before sharing. Ensure no personal or sensitive information is inadvertently included.

Using verbose logging may have a minimal impact on app performance, but it ensures a more transparent troubleshooting process.
Conclusion
The Verbose Logging feature is a testament to UJAM's commitment to improving user experience. By understanding its purpose and how to use it, you can ensure smoother interactions with the UJAM App and faster resolutions to any challenges you might face. Your feedback and the information from these logs drive our continuous improvements, making music creation more enjoyable for everyone.