The Silent Plugin Installation feature in the UJAM App streamlines your plug-in installation process. With this feature, users can effortlessly download and install UJAM plugins without repeatedly entering admin credentials or providing permission for each installation.
Initial Setup
Enable the Silent Plugin Installation feature in the UJAM App settings:

Upon activating, users will be prompted once to enter their admin credentials and grant necessary permissions:


After the initial setup, the UJAM App will allow you to handle the download and installation of your plugins effortlessly, eliminating the need for entering credentials over and over again.
Although the installations are silent, users will be kept informed via notifications about the installation status.
Requirements on macOS
For the Silent Plugin Installation feature to function correctly on macOS, the "UJAM Install Service" requires "Full Disk Access". This access allows the service to place plugins and their associated resources in the necessary directories on your system without constant user intervention. If "Full Disk Access" is not granted, the following message will appear: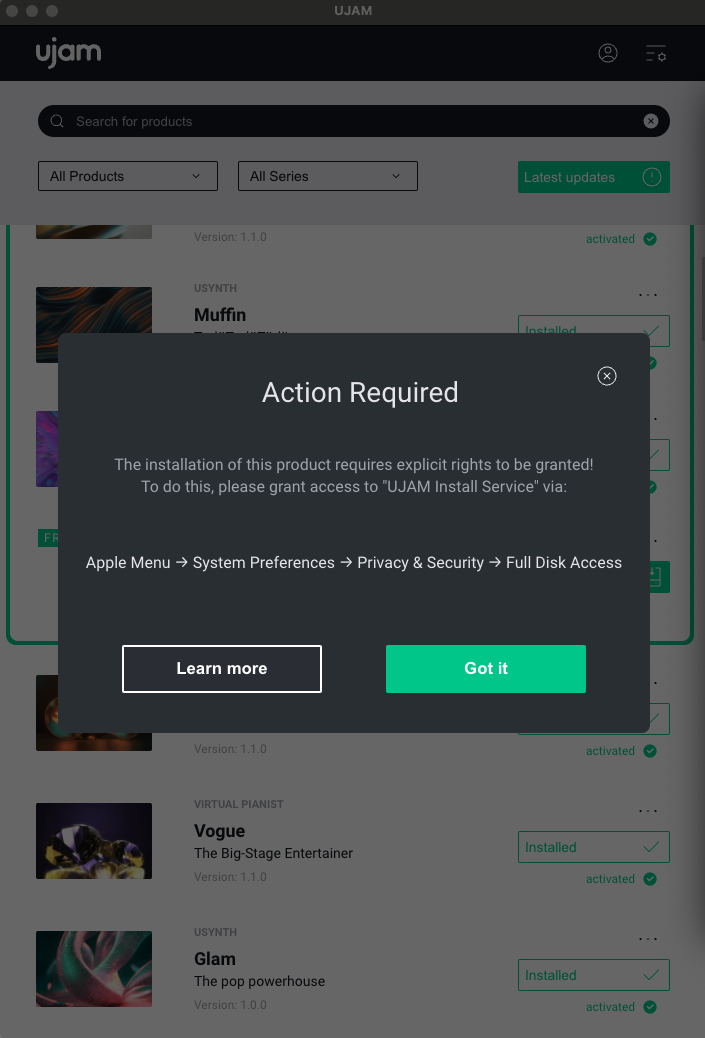 How to Grant Full Disk Access to UJAM Install Service on macOS:
Open System Preferences on your Mac.
Click on Security & Privacy.
Navigate to the Privacy section.
In the left panel, select Full Disk Access.


Click the lock icon at the bottom left to make changes and enter your password when prompted.

Click the + button, navigate to the "UJAM Install Service" application, and add it.
Ensure the checkbox next to "UJAM Install Service" is checked.


Close the System Preferences window.

Security Considerations
Granting any application "Full Disk Access" is a significant action. UJAM values your trust and prioritizes the security and privacy of your data. This access is solely to facilitate the seamless installation of your plugins. However, always ensure you:
Download the UJAM App directly from official UJAM sources.

Keep your UJAM App updated to benefit from the latest security patches.

Regularly monitor the app's behavior and reach out to UJAM support for any concerns.
The "Silent Install" feature aims to enhance the user experience by simplifying the plugin installation process. By understanding its functionality and requirements, users can make the most of this feature and maintain a secure music production environment.