We received a lot of inquiries regarding MIDI passthrough for Virtual Pianist. At this point there is no direct MIDI output available which would allow you to instantly send the MIDI data to other instruments while using Virtual Pianist.
We consider adding this feature with a future update.
Workaround
For now, please make sure to use the built-in MIDI drag & drop feature!

You will have noticed the little areas with six dots that appear on the Control Octave: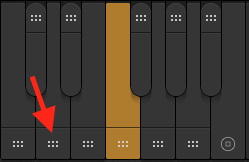 To drag a phrase from the plug-in to your DAW, click and hold in the dotted drag area of any phrase key on the Interactive Keyboard and drag the mouse pointer over to the target track. Then let go and the MIDI file gets created.

That MIDI region will contain the phrase of the key you dragged from, with the last detected chord, considering the Play Range and Busyness setting but not the Velocity setting.

Use this to build entire songs: Hold a chord, drag phrase, hold next chord – you get it!



Note: When you Drag & Drop onto the track of the Virtual Pianist itself, Virtual Pianist will switch to Instrument mode to play back that phrase.
MIDI Drag & Drop is particularly useful when you...
...want to build a song part by part

...combine phrases from various styles

...apply detail edits to phrases