This is Groovemate ONE!
When it comes to the bread-and-butter of percussion, Groovemate ONE is just what you need. The plug-in offers a combination of 30 different styles and mix presets while asking absolute minimal effort from you and lets you easily add the four essential sounds your track is probably missing.
To help you get started with GM-ONE, here are the answers to some frequently asked questions:

How can I try Groovemate ONE?
Where do I find the user guide?
The user guide is also attached to this article (scroll down to the bottom).

I'm running into download issues. What can I do?
I already own several ujam plug-ins – do you have a special offer for me?
The price is as low as it can be, we can't offer any loyalty deals – sorry!

Please visit our store to check on any other special deals or bundle options.
If you wish to complete your ujam collection, please reach out to our support team for an individual discount code. With every release, the Full Bundle price slightly increases. This bundle is the ujam collectors' edition including every ujam plug-in and sells at a discount of 57%.


I open Groovemate and my DAW crashes – what can I do?
Please check whether you have the newest version installed. The plug-in will notify you if an update is available.

Manually remove all plug-in files and try a clean installation. Have a look at the following articles:
►Uninstalling on Mac
Where to find a walkthrough?
Here you go:
How can I load my own samples into Groovemate ONE?
That's not an intended workflow in this plug-in.


Is there an option to Drag and Drop MIDI?
Sure! GM-ONE features MIDI drag and drop, giving you way more possibilities for quick arranging and to fine adjust and alter phrases. Note that if you drag and drop a MIDI file into your DAW, because of the plugin's internal MIDI handling, you might have to manually adjust its length, this is especially true for Intros, Fills, and Endings.
I bought Groovemate ONE at a reseller. How can I redeem my code?
The following article will help you: Partner Shop Purchase
Please make sure you copy & paste the complete code! It should look like this:
Single product: XXXX-XXXXXXXXXX-XXXXXX


I can't authorize my new plug-in!
In case you are struggling with authorizing your plug-in, please have a look at the following article: ►Authorization Issues
I received a serial number/ coupon code but I can not redeem it. Is the license usage limit reached or the coupon expired?
Please double check the code you entered.

Log in to your ujam account and check whether GM-ONE is already linked to your account. If so, you're good to go and you will be able to activate the plug-in with your ujam credentials.
I downloaded the plug-in but my trial time has already expired – I have 0 days left.
Unfortunately, this can happen due to technical circumstances – please submit a request to our support staff and attach your .ops file – have a look at the following article: Instant expired trial time
I installed Groovemate ONE but I can't find it in my DAW.
Please try a DAW plug-in rescan. For further information, click here.
Will Groovemate ONE

work on my computer?
We put together some hard facts for you (see below), but the easiest way to check that is to download ONE and run the 30 day free trial before buying the product!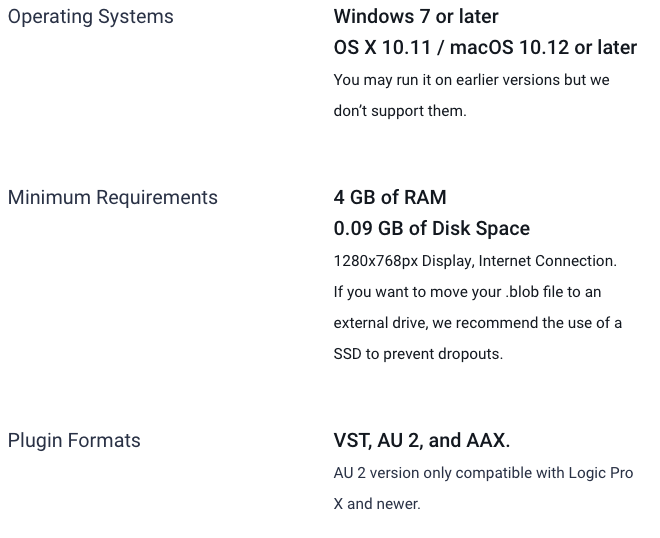 Digital Audio Workstations
Groovemate ONE should run on every DAW supporting VST 2, AU 2, and AAX. We cannot guarantee that GM-ONE is compatible with the following software:
Adobe Audition

Audacity

Pro Tools First

Mixcraft 8

Earlier Cubase versions (make sure to test the free trial)
Is there a Reason Rack Extension?
We didn't create a Groovemate ONE Rack Extension. Please make sure to use the VST format if you're a user of Reason Studios.
If you have further questions, please feel free to submit a request to our support staff. Thanks!