UJAM App sign in issues? Please have a look at this article: ↪Sign in | UJAM App


For UJAM App installation issues, please have a look at this article: ↪UJAM App | Download & Installation issues
General Troubleshooting
Always keep your app up-to-date and use the latest version (download here).

Check your Antivirus settings:

Sometimes, antivirus software can be a little overzealous and block apps it shouldn't. Look for any settings related to application control or network access and see if UJAM is listed. If it is, make sure it's set to allow network access.

You can also try temporarily disabling your antivirus software to see if that solves the problem.

Disable your Firewall temporarily:

On most systems, you can do this by going into your computer's settings, finding the 'Firewall & network protection' section, and then temporarily turning off the firewall.

After you've done this, try launching the UJAM software again and see if the problem persists.

Check your Internet Settings:

Some software has issues with certain types of internet connections.

If you're using a VPN or proxy, try disabling it to see if that solves the problem.

Run as administrator and make sure to enter your system password when asked (sometimes the window might pop up somewhere in the background)

Grant all the required permissions in your system settings

Close your DAW before installing or uninstalling plugin software
More T

roubleshooting
Try to fully quit the UJAM App in the taskbar and then relaunch the UJAM App.

Try to sign out and sign back in.

Make sure you have admin access and grant all the requested permissions during the installation process.

Use your main local drive and make sure you have

enough disc space available.

Don't use special characters for your download- and VST folder names.

Try deleting the UJAM App from your system and reinstall.


macOS

Move the UJAM App files to the trash:

File

Path

UJAM App

Macintosh HD:/Applications
Macintosh HD:/USERS/USERNAME/Library/Application Support/ujamapp
Windows
Windows ➜ System Settings ➜ Apps ➜ Installed Apps ➜ Search for UJAM ➜ Uninstall
Also delete the UJAM App files:
| | |
| --- | --- |
| File | Path |
| UJAM App | %SYSTEMDRIVE%Users%USERNAME%AppDataRoamingujamapp |
Windows specific Troubleshooting
Choose 'Run as administrator' (right-click on the setup file):



Put also compatibility mode to Windows 7

Select a writable folder on your system drive (C:)

Try to change the selected VST2 folder location in the UJAM App settings to C:\Program Files (x86) and then back to the default folder C:\Program Files\VSTPlugins(this works for some users).

Mac specific Troubleshooting

Select a writable folder on your system drive. Try to select a different directory for the Download folder if you're experiencing errors: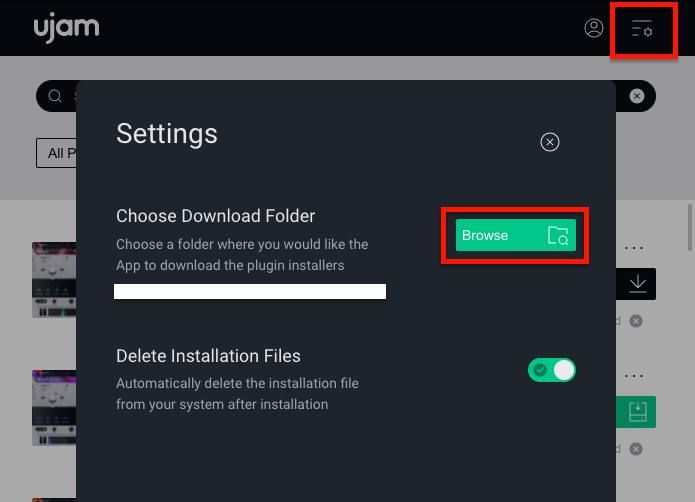 Can't find a solution?
In case you are running into further issues, like for example while connecting your account to the UJAM App, please go to http://ujam.com/contact-us and send us:
The email address of your UJAM account

The name and version of the browser you are using

A detailed description of the issue

The .installationInfo

​ file

The error.log

​ file

The combined.log

​ file

A screenshot (in case you see some kind of error message)
You can find them here:
Mac:
/Users/MYUSERNAME/Library/Application Support/ujamapp/
Windows:
C:\Users\MYUSERNAME\AppData\Roaming\ujamapp\
or copy & paste this: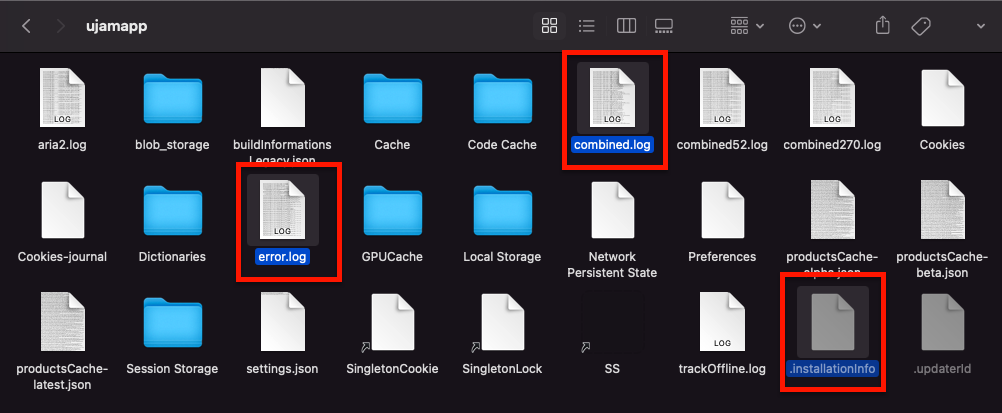 ​
Make sure you can see hidden files. On Mac, press command shift .​and the installationInfo​ file will appear. It looks like this:

​
How to access hidden files on Windows:
1. Open File Explorer from the taskbar.
2.Select View > Options > Change folder and search options.
3. Select the View tab and, in Advanced settings, select Show hidden files, folders, and drives and OK.